Creating a Lesson Page
A BULB Lesson Page is a WordPress Custom Post Type that is created and edited in the same way as a WordPress page. When BULB Lesson Pages are arranged in an ordered, parent-child relationship, BULB automatically adds sidebar and page navigation so that students can easily navigate to pages within the lesson.
In a multi-page lesson, the first page of the lesson is the "Parent" page. All other lesson pages are children of the parent page. This hierarchy can be seen from the "All Lesson Pages" page under the "BULB Lessons" Dashboard menu.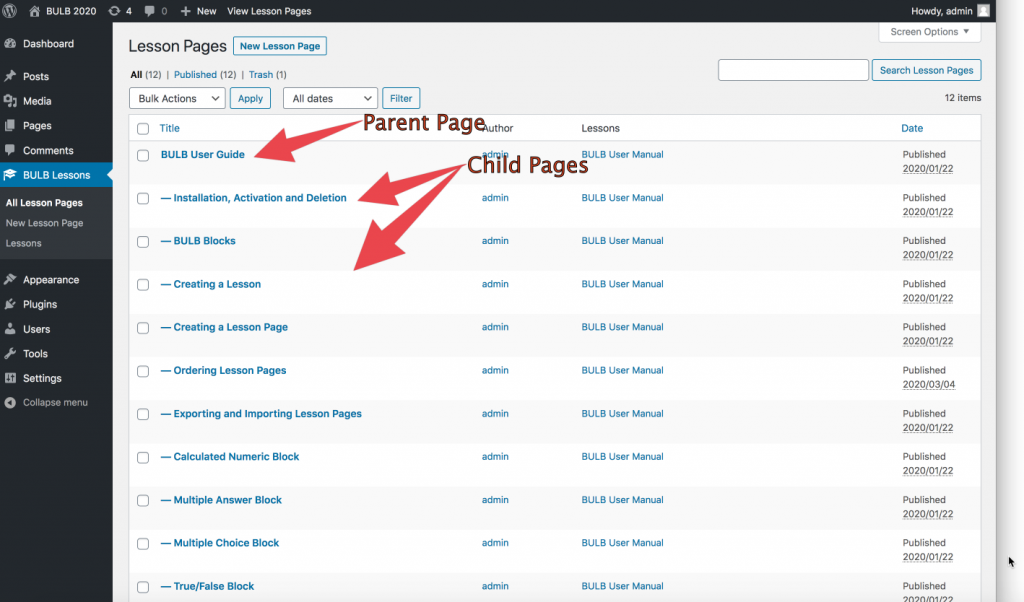 New "Lesson Pages" can be created through multiple links on the WordPress dashboard and shortcut menus, shown here:


After selecting a "New Lesson Page" link, you will enter the editor. Simply create your content as you would any other Gutenberg page. The BULB blocks can be found in the Block Selector under the BULB dropdown.

Video Tutorial: